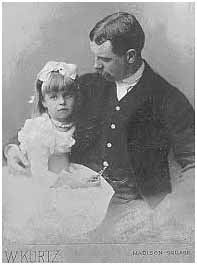 The Brief Biography
Anna "Eleanor" Roosevelt was born on October 11th, 1884 in New York City. Her parents Elliot Bulloch Roosevelt (younger brother to President Theodore Roosevelt) and Anna Rebecca Hall (sister to tennis champions, Vallie and Eddie Hall) were the products of incredible wealth and status in the Manhattan and across the United States. But Eleanor's childhood masked by high-society, was far from glamourous. Marred early-on by the death of her mother in 1892 and subsequent alcoholism and death of her father, Eleanor and her two younger brothers were orphaned by her tenth birthday in 1894.
Thus, Eleanor and her siblings were sent to live with their maternal grandmother in Tivoli, New York. This chapter of Eleanor's life was ridden with challenge. Having promised her father that she would care for her younger brother, Eleanor spent much of her time tending to the needs of others. Her grandmother, Mary Livingston Ludlow, was known as a vain woman who's judgements of Eleanor's physical beauty mirrored those her mother had expressed before her passing – granny, plain, and ugly.Yet at age 14, Eleanor wrote in her journal, "no matter how plain a woman may be if truth and loyalty are stamped upon her face all will be attracted to her."
Encouraged by her favorite Aunt Anna "Bamie" Roosevelt, Eleanor was sent at age 15 to Allenswood Academy in Wimbledon, England. The experience proved to be one of absolute transformation, as Eleanor was liberated and inspired, most formatively by headmistress Marie Souvestre. Eleanor learned fluent French and gained tremendous confidence.
In 1902, Eleanor was introduced to her father's fifth cousin Franklin Delano Roosevelt. Following a year of letter correspondence the two were engaged, to the dismay of Franklin's mother Sara. On March 17th, 1905 Eleanor was given away by her uncle President Theodore Roosevelt, and was wed to Franklin. Together, the couple raised six children in Hyde Park, New York. Franklin became Governor of New York in 1929 and President of the United States in 1933.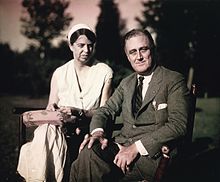 During her husband's presidency, Eleanor acted as 1st Chair of the Presidential Commission on the Status of Women, 1st United States Representative to the United Nation's Commission on Human Rights, and international diplomat for the United States, without ever having gone to college. Outside of government politics, Eleanor was an activist for social liberties across a myriad of causes, ranging race, gender, sexual orientation, socio-economic status, and many other instances of inequality she found in the United States. Her compassion was made evident in the care she took to travel, meet, and listen to the stories of life much different from that whence she came. Eleanor chronicled her experiences in a weekly and widely syndicated news article entitled "My Day." 
In her adult life, Eleanor spent much of her time at Val-kill - her refuge from the hardships of the outside world. It was here that she entertained royalty and diplomats with her infamous weenie roasts, spent time with her family, invested in her local community, and drafted the Universal Declaration of Human Rights.