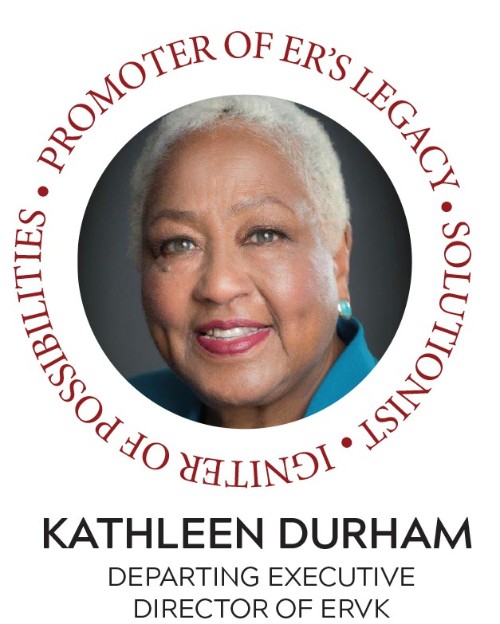 KATHLEEN DURHAM
Passionate about creating an environment that fosters transformation and self- empowerment, Kathleen Durham served as  the  Executive  Director  of  Eleanor Roosevelt Center at Val-kill for nine years. As  the  Executive  Director,  she  led  the team in promoting and continuing Eleanor Roosevelt's   leadership   legacy   in   social justice, human rights and socially conscious leadership  through  programs  such  as  Girls' Leadership  Worldwide  and  Eleanor  Roosevelt's Emerging   Leaders   Program   for   community   college students.
While living in Los Angeles, Kathleen resigned from her position as Director of Labor Relations for the U.S. Customs Service to attend Pepperdine Law School in Malibu, California, where she received her Juris Doctorate in 1984. Subsequently, she practiced Business and Employment Law in California and New York before moving to Savannah, Georgia to serve as Vice-President of Business & Economic Development for the Savannah Area Chamber of Commerce. She also served as Director of Public Engagement for Savannah Public Schools. Her passion for making a difference started when she moved from Los Angeles to Rhinebeck, NY in 1988 and opened her law practice in Poughkeepsie in 1992. She discovered that her greatest joy came from working with the community to bring about desired change.
While Kathleen has served on a number of non-profit boards and has been honoured for her service by various community organizations, she truly believes service is the rent you pay for your space on earth. One example  of her commitment to service was helping to raise funds for the American Diabetes Association in Savannah by donning a pink sequined dress and kissing a pig. Kathleen credits the leader she has become to Eleanor Roosevelt, ERVK and the girls, and men and women who participate in ERVK's programs. She loves public speaking, fishing, and is a aspiring writer of riveting self-empowerment books and articles.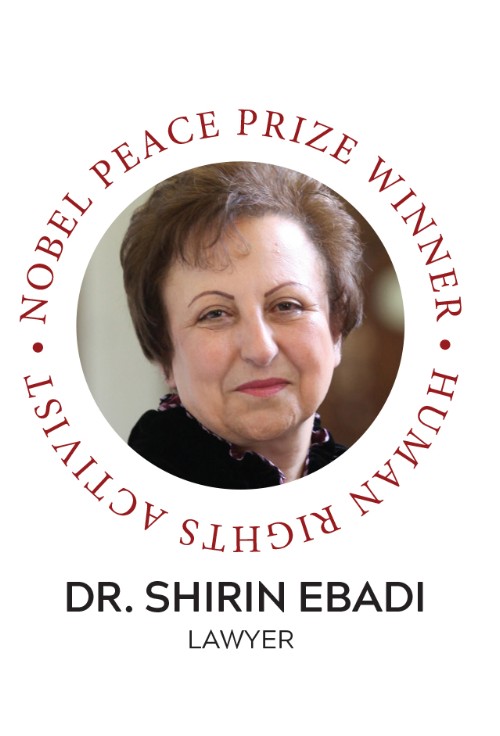 R. SHIRIN EBADI
Dr. Shirin Ebadi is an Iranian lawyer, former judge  and  human  rights  activist.  On  10 October, 2003, Dr. Ebadi was awarded the Nobel Peace Prize for her significant and pioneering efforts for democracy and human rights - especially women's, children's and refugee rights. She was the first Iranian to ever receive the prize.
Dr. Ebadi became Iran's first female judge when she was just 23 years old. She also became the first Iranian and first Muslim woman to be awarded the Nobel Peace Prize. Despite initially supporting the Iranian revolution like many Iranians, Dr. Ebadi soon became its scourge. Although described as the worst nightmare of Iran's hardline clerics, her fight for human rights, particularly those for women, is not anti-religion. I am against patriarchy, not Islam, she says.
Demoted to a secretary in her own court by the regime, which considered women unsuitable to be judges, she set up her own pro-bono law practice to focus on injustices in the legal system, acting for political dissidents and on child-abuse cases.
Despite being put on a death list by the regime, Dr. Ebadi became the country's most high-profile human rights activist, founding the Human Rights Defenders Centre and helping to found the One Million Signatures Campaign. This grassroots campaign collected 1 million signatures from women in support of changing discriminatory laws. The campaign has won numerous international prizes (including the 2009 Reach All Women in War Anna Politkovskaya Award), but its members have also been harassed and even jailed.
Dr. Ebadi lived in Tehran, but she has been in exile in the UK since June 2009 due to the increase in persecution of Iranian citizens who are critical of the current regime. In 2004, she was listed by Forbes Magazine as one of the "100 most powerful women in the world." She is also included in a published list of the "100 most influential women of all time."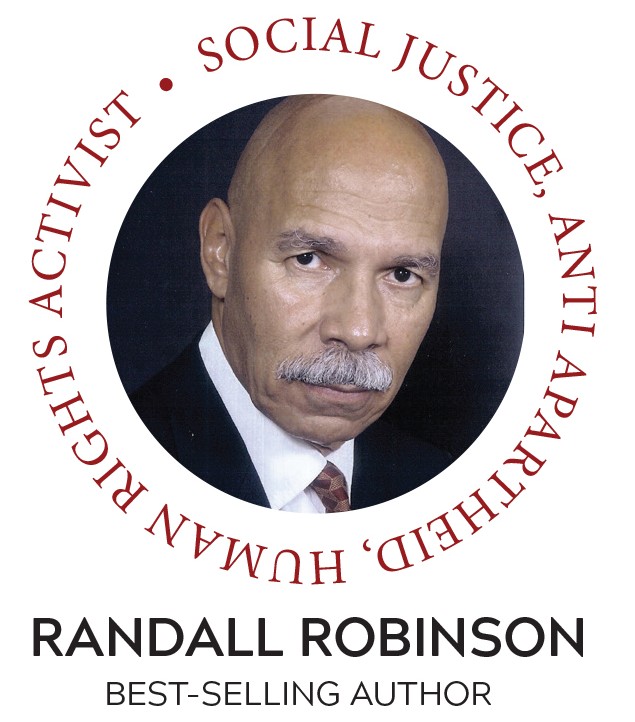 RANDALL ROBINSON
Randall   Robinson   is   an   internationally respected social justice advocate and best- selling author.   Until recently a professor  of   human   rights   law   at   Penn   State University, Robinson in 1979 established TransAfrica,  the  mandate  of  which  was  to  promote  enlightened,  progressive  US policies towards Africa and the Caribbean.  He created – and hosts – the human rights public  television  program  "World  On  Trial", during  which  international  juries  vote  on  world governments'   adherence   to   international   human rights law.
As president of TransAfrica, Robinson frequently testified before Congress on U.S. policies toward Africa and the Caribbean. He led the Free South Africa Movement - a nationwide campaign to end apartheid in South Africa. His 1994 campaign to end military rule in Haiti included a 27-day hunger strike that led to the US-led multinational operation that returned to power Haiti's first democratically elected – but violently overthrown – government. And he spearheaded a range of other campaigns to ensure more constructive US policies toward Africa and the Caribbean.
Robinson's non-fiction works include Defending the Spirit; The Debt – What America Owes to Blacks; The Reckoning – What Blacks Owe to Each Other; Quitting America – The Departure of a Black Man from his Native Land; Unbroken Agony – Haiti: From Revolution to the Kidnapping of a President. He is also the author of the novel MAKEDA.
He is a graduate of Virginia Union University and Harvard Law School, and some 19 universities have conferred upon him honorary Ph.D's in recognition of his work in the area of social justice advocacy.  Among the other institutions that have honored him are the United Nations, the
Congressional Black Caucus, Harvard University, Essence, ABC News (Person of the Week), The Martin Luther King Center for Non-Violent Change, the NAACP, and Ebony, to mention a few. The Government of South Africa has conferred upon him the highest honor permissible to a non-citizen of South Africa, in recognition of his efforts to end apartheid.
Robinson has presented his views and policy recommendations on such networks and shows as Nightline, CNN, CBS Evening News, CBS Sunday Morning, Face the Nation, Democracy Now, NPR, NBC Nightly News, ABC's World News Tonight, The Today Show, C-Span, The Tavis Smiley Show, The Charlie Rose Show, and other leading American television programs.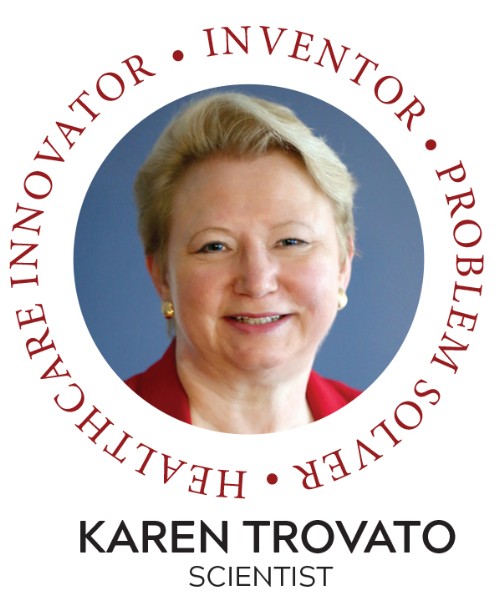 KAREN TROVATO
Dr.  Karen  Trovato  worked  as  a  Principal Member of Research and as Project Leader at Philips Research. She focused on path planning, which she used for robotics, a self- driving car, and the first driving directions website. The launch of the website won her the   company's   prestigious   Extraordinary Product Development Award.
Dr. Trovato later invented medical devices to reach into the body, including an electronic pill that  uses computer controls to deliver a patient's medication at the optimal time. The Electronic Pill is a major advancement in medical technology that uses computer controls to accurately deliver medication when and where it is most effective. The Electronic Pill invention has been recognized by CNN and the New York Times.
Dr. Trovato is a prolific inventor with 41 issued patents in the U.S. and hundreds worldwide. She was the 2005 New York Intellectual Property Law Association Inventor of the Year, and is a U.S. Patent Agent.
She is passionate about encouraging the study of STEM (science, technology, engineering and math) by all students, but especially those that are underrepresented. She recently joined Fordham University as a professor of Computer Science.
Dr. Trovato holds a PhD in Computer Science from the University of Amsterdam, a M.S. in Computer Science from NYU, a B.S. in Math/Computer Science from SUNY Stony Brook, and an A.A. in Math from Dutchess Community College. She has published over three dozen papers and contributed chapters to four books.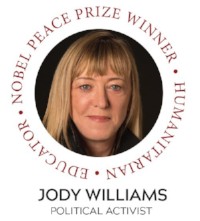 JODY WILLIAMS
Jody  Williams  received  the  Nobel  Peace Prize in 1997 for her work to ban landmines through the International Campaign to Ban Landmines, which shared the Peace Prize with her that year. At that time, she became the 10th woman – and third American woman in its almost 100-year history to receive the Prize.  Since her protests of the Vietnam War, she has been a life-long advocate of freedom, self-determination and human and civil rights.
Like others who have seen the ravages of war, she is an outspoken peace activist who struggles to reclaim the real meaning of peace – a concept which goes far beyond the absence of armed conflict and is defined by human security, not national security. Williams believes that working for peace is  not for the faint of heart.  It requires dogged persistence and a commitment to sustainable peace, built on environmental justice and meeting the basic needs of the majority of people on our planet.
Since January of 2006, Williams has worked toward those ends through the Nobel Women's Initiative, which she chairs. The Initiative uses the prestige of the Nobel Peace Prize and the influence and access of the women Nobel Laureates themselves to support and amplify the efforts of women around the world working for sustainable peace with justice and equality.
As a Campaign Ambassador for the International Campaign to Ban Landmines, Williams oversaw the Campaign's growth to over 1,300 organizations in 95 countries working to eliminate antipersonnel landmines. In an unprecedented cooperative effort with governments, UN bodies and the International Committee of the Red Cross, she served as a chief strategist and spokesperson for the ICBL as it dramatically achieved its goal of an international treaty banning antipersonnel landmines. Williams is the recipient of fifteen honorary degrees. She was named by Forbes Magazine in 2004 as one of the 100 most powerful women in the world in the publication of its first such annual list.
She holds the Sam and Cele Keeper Endowed Professorship in Peace and Social Justice at the Graduate College of Social Work at the University of Houston. where she has been teaching since 2003. Her memoir on life as a grassroots activist, My Name is Jody Williams: A Vermont Girl's Winding Path to the Nobel Peace Prize was released by the University of California Press in early 2013.