Are YOU Prepared to Lead?
ECCEL is a dynamic and tranformational leadership development program excluslively for students attending Dutchess, Orange, Rockland and Ulster Community Colleges.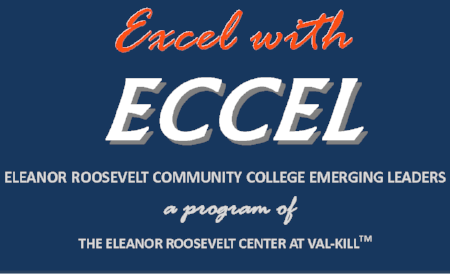 The Eleanor Roosevelt Center's ECCEL program prepares students to lead in all aspects of their lives – personal, academic, professional and community.  With a focus on self-discovery, skill development, experiential learning and global citizenship, the program will contribute significantly to students' academic achievement and workforce success and prepare them to lead in a global society. 
Students Excel with ECCEL. It's a program for students who want to:
LEARN valuable leadership skills that will prepare them to lead in a global society
DEVELOP strong communication and interpersonal skills that give them an advantage in school and in the workforce
BUILD relationships with business and community leaders
DISCOVER their strengths, potential and passion and how to use them
SERVE their community in a meaningful way
CONNECT with other like-minded students across multiple campuses
PARTICIPATE in a vibrant and diverse community of future leaders

During this transformational program, up to 36 students from four campuses will bring their passion and leadership potential to life. Throughout the academic year you will focus on leadership development through a series of three weekend retreats with students from Dutchess, Orange, Rockland and Ulster County Community Colleges and regularly scheduled on-campus activities and workshops for students on their home campus.
Students accepted into the ECCEL program will be identified as Louis B. Greenspan Scholars and will receive a special certificate of completion at the end of the program.