---
GIRLS' LEADERSHIP WORLDWIDE WILL BRING YOU…
Confidence to take on your dreams 
Global Perspectives on leadership and diplomacy
Networks of international peers and mentors
Participants to the program will engage in workshops on public speaking, passion and purpose, networking and navigation of professionalism, and leadership legacies, such as that left by First Lady of the World, Eleanor Roosevelt. Girl's will spend time touring historic spaces such as Eleanor's home at Val-kill, FDR's estate in Hyde Park, and cosmopolitan arenas like Upper Manhattan and the Financial District in New York City. In the past participants have had the privilege of meeting and hearing from accomplished female leaders including Samantha Powers (former US ambassador to the UN), Erin Duggan Kramer (NY District Attorney's Office), Wendy Clark (CEO at DDB Advertising), Tara Abrahams (GLAMOUR Magazine, Co-producer Girl Rising), Betty Huang (Immigration Attorney), and many other trail-blazers of women's equality and leadership in the work place. They have visited career sites hosted by venues like CNN, the National Stem Cell Foundation, GLAMOUR Magazine, and the United Nations, and the list continues to expand over the years. 
Over the course of 8 days, young female leaders will be brought together from all corners of the globe, to become empowered and inspired by the lessons and legacies left by Eleanor Roosevelt. Upon culmination of the program young women will emerge, transformed and reenergized, ready to be the compassionate, socially conscious, and fearless leaders of a new tomorrow.
             "The Future belongs to those who believe in the beauty and power of their dreams."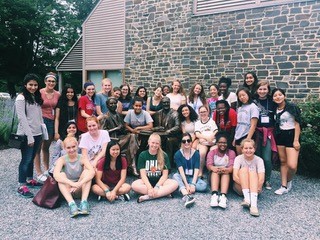 ---
Session Duration

 (8 days, 7 nights)
Session I: July 6 – July 14
Session II: July 20 – July 28
Tuition: $2,500
---
Location:
Girl's Leadership Worldwide takes place on the historic stomping grounds of Eleanor Roosevelt, in Hyde Park, New York. Girl's will be housed at Vassar College, a mere 10 minute bus-ride away from Val-kill.